about us
Why choose Oxford Athletic Club
What an exciting summer we have planned at Oxford Athletic Club! Experience all new summer camp programming at our state-of-the-art facility. We have partnered with local thought-leaders in Pittsburgh to provide the best experience for our campers! All campers will swim for an hour every day in our indoor and outdoor pools. Summer Camp programming at OAC includes Broadway Theater, Racquet Sports, Out of this World, Shark Week, Under the Sea, Sportstastic, Mad Science, What's Trending, Animal Adventure, and Fun In The Sun!
Families who become members of Oxford Athletic Club receive a number of perks including early enrollment, discounted rates, and more. To learn more about joining Oxford Athletic Club please call 724.933.1911 or email us today
Oxford Schedule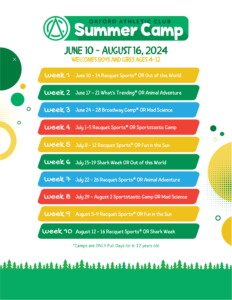 - $10 admin fee for camp week changes
- $20 admin fee for each cancelled camp
- No prorated camp
Oxford members have the option to charge camp to their member account. To do so, please email camp@oxfordathleticclub.com.
Got a question?
Check out our FAQs